Blog Home
It's All Fun and Games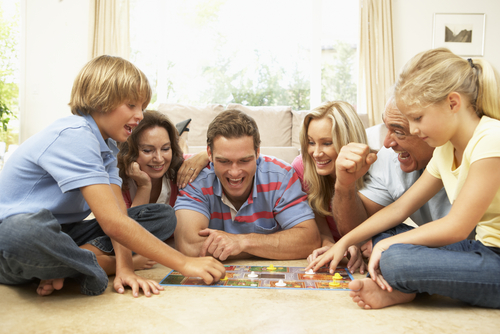 Games have been around for millennia, with some, such as a version of chess, going back to ancient Egypt. We still enjoy the mental challenge of solving problems and besting others in the safe, friendly arena of competition that games provide. The third week of this month is National Game and Puzzle week, and we've got some game suggestions and resources we think our apartment community at the Ledges at Johnston will enjoy, plus some local gaming resources.
Whether you are into board games, PokemonGo, deck-building games, or even Escape Rooms, getting together with friends and family to spend an afternoon or evening socializing and gaming is the perfect way to build relationships. We've got a few suggestions we think you may enjoy.
To get you started, here is a site full of some Brain Bashers and Brain Teasers including puzzles, illusions, Sudoku, and other random riddles and logic puzzles.
These are great games for a small group of people:
Dominion — Dominion is an easy-to-learn, popular deck-building game. Deceptively simple, it also allows for endless variation. The company's marketing team describes the game like this:
"You are a monarch. . . a ruler of a small pleasant kingdom of rivers and evergreens. . . . You want a bigger and more pleasant kingdom, with more rivers and a wider variety of trees. You want a Dominion. In all directions lie fiefs, freeholds, and feodums. All are small bits of land, controlled by petty lords and verging on anarchy. You will bring civilization to these people, uniting them under your banner. But . . . several other monarchs have had the exact same idea. You must race to get as much of the unclaimed land as possible, fending them off along the way."
BANG! — has been described as a spaghetti western card game where the outlaws hunt the sheriff, the sheriff hunts the outlaws, and no one is sure who the renegades are after. Play is decided by several different types of cards including both action and character cards. The deluxe version of the games comes complete with a sheriff's badge (provide your own cowboy hat please) and the number of players can range from four to about ten. Add-on extensions are available to provide more variations. You'll get a Bang! out of this game.
Game Shops Near Johnston, RI
Rivendell Books and Games — From their website: "A great source for Board Games, Collectible Card Games, Roleplaying Games, new & used books, t-shirts, miniatures, collectibles, and much more!"
Game Stop — A great place to shop for games and gaming systems including Xbox, PlayStation, Wii, and more. Find a store near you with the website's GameStop store locator.
Die Hard Games — From its Facebook page: "We have weekly tournaments with a gigantic player base for multiple collectable card games, specializing in Magic: The Gathering. We have thousands of cards for sale at the cheapest prices around! We also buy/sell/trade for cards daily!"
Happy Thanksgiving! We appreciate all the members of our apartment community. Thanks for reading today's blog.