Blog Home
Halloween Party Food at Your Ledges at Johnston Apartments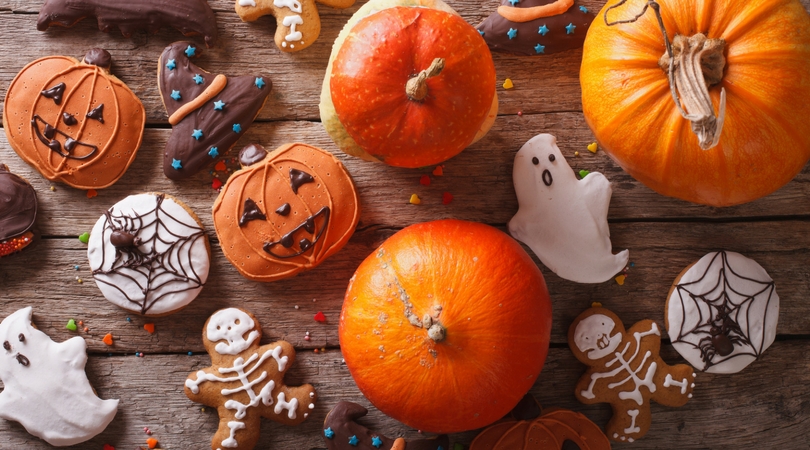 Are you planning to throw a Halloween party at your Ledges at Johnston apartment? We have some party food ideas to get you started on your planning. Invite friends and family over to enjoy a Halloween celebration here in Johnston, RI.
Don't be put off by their suspicious appearance — these toffee covered apples are incredibly delicious. This recipe comes from Simply Delicious Food and is inspired by the poison apple from Snow White. Like the Disney princess, you won't be able to resist them. You'll need the following ingredients to make these treats: granulated sugar, water, light corn syrup, black gel food coloring, granny smith apples, and skewers or popsicle sticks.
Double Chocolate Pumpkin Cookies
Chocoholics will love these double chocolate pumpkin cookies from Everyday Reading. Here's everything you will need: flour, unsweetened cocoa powder, salt, cinnamon, nutmeg, ground cloves, semisweet chocolate chips, sugar, pumpkin puree, and vanilla.
This apple pumpkin bundt cake is the perfectly fluffy and moist. The recipe comes from Julia's Album. They're sure to please all your guests. The apple and pumpkin flavors complement each other nicely for the perfect balance of sweetness and spice. Once the cake has cooled from the oven, drizzle with caramel sauce and add chopped nuts for a perfect finish.
Fresh, juicy strawberries dipped in white chocolate with spooky faces drawn on with melted milk chocolate look like little ghosts. This recipe comes from Taste of Home. Everyone is sure to love these delicious treats. Ingredients needed are fresh strawberries, white baking chocolate, shortening, almond extract, and mini semi-sweet chocolate chips.
This fun treat is made with chocolate chip cookies split in half, red colored frosting, mini marshmallows, and almond slivers. They look like a pair of dentures with vampire fangs, but taste like a delicious frosted cookie. The recipe comes from The Girl Who Ate Everything.
What's your favorite Halloween treat? Let us know in the comments below. Thanks for reading and visit the Ledges at Johnston Blog again soon!